Amherst Shore to Pictou
Nova Scotia


By Pat Mestern
Having spent the night in, or near Amherst, it's time to take the aptly named Sunrise Trail which follows the eastern shore giving views of the Northumberland Strait that separates Nova Scotia from Prince Edward Island - PEI. The Sunrise Trail, Highway #366 and #6, is an excellent introduction to the landscape known the Amherst Shore which comprises a wide coastal plain stretching from the Province of New Brunswick to Pictou County, Nova Scotia. The Shore's landscape presents miles of undulating low ridges and long fertile valleys. While some ridges run into the Northumberland Straits as headlands, snug harbours and pretty villages are tucked along the shore and throughout the valley lands. Extensive salt marshes and ell grass beds can be found in sheltered bays. Because of Amherst Shore's low-lying nature, gypsum and salt deposits are close to the surface. While salt springs are common around Oxford, the town of Pugwash sits on a salt deposit that's 1,500 feet thick.
Your first stop should be in the village of Oxford, to check out the Wild Blueberry & Maple Centre. Oxford is approximately ten miles off #366. Blueberries are Nova Scotia's number one crop, the province accounting for 45% of total Canadian blueberry production. The Centre is devoted to telling the story of Nova Scotian blueberry and maple syrup production. Good displays and a full range of products for sale make it a good attraction and one worth seeing.
Take time to walk around the village of Oxford whose streets are lined with some interesting architectural styles. Oxford is the sort of community where folks meet at the barbershop and hang out on a favourite street bench - where people collect their mail and the latest gossip at the post office - where snack bars are called canteens and truck caps are used as chicken coops. As one local said, a full-sized boat is a favourite lawn ornament.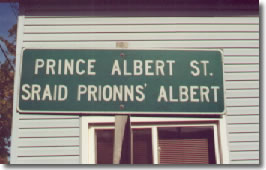 Down the road from Oxford, Highway #366 meets #6 and leads to Pugwash, a town that is so Scottish it boasts bilingual street signs in English and Gaelic. Cyrus Eaton, called Pugwash home. A far sighted man, Eaton realized where the consequences of a nuclear arms race without controls might lead to disaster. In 1957 at age 70, Eaton invited nuclear scientists from around the world to Thinker's Lodge in Pugwash in an effort to prevent nuclear war. The town is home to Seagull Pewter with its excellent outlet store, and to the Windsor Salt company. Windsor Salt is a household name as a high percentage of Canadian homes use the product for table and pickling. Pugwash is a full-service community with a number of restaurants and accommodation choices.
A meander along Highway #6 and its interesting side roads, leads to Jose Vineyards near Malagash. Hans Jost's family has been making wine in Nova Scotia for more than twenty-five years. His Vineyard has produced some good award winning product. Drop in for a tour of the winery and their outlet shop.
The village of Tatamagouche - doesn't that name just rolls off your tongue - has a residency of approximately six hundred people and possesses one of the friendliest main streets in Nova Scotia. It also boasts an accommodation so unique that train buffs drive hundreds of miles to spend a night or two.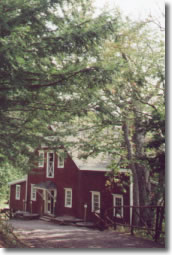 Let's start with the accommodation. Train Station Inn consists of a c1890's train station that houses a museum, café, gift shop and three rooms that are part of the bed and breakfast experience. If planning to stay in the area, or a train buff, you really want to book one of the Inn's cabooses or box cars. Cabooses date from 1911 to 1978 and do provide an interesting bed and breakfast experience. Would you believe that your room rocks gently with the wind? It does and it's a pleasant feeling!
Tatamagouche with its art gallery, museum, restaurants, craft shops and a friendly weekly farm market, is just an hour's drive from Amherst or Pictou. The community is so centrally located that it makes an ideal home base for area exploration. As the area is in the heart of sheep farming country, some restaurants serve lamb. Lobsters are a main-stay too as are wild chanterelle mushrooms, in season.
While in the Tatamagouche area, make time to see two excellent museums. Both are run by Nova Scotia Museums and are fine examples of how to properly present history. Balmoral Grist Mill gives a comprehensive overview of grains and the milling process. A little known fact, but for those who know grains, is that oats had to be dried before they could be ground. One of the most unique features at Balmoral Grist Mill is an original still-in-use drying room for oats. The Sutherland Steam Mill at Denmark has most of its original machinery and molds in place and, most important, interpreters that know how it was used.
Hungry? If you're near Earltown, drop into Sugar Moon Farm for a feed of buttermilk pancakes, baked beans, farm sausage and maple syrup. While there, take a hike through their sugar woods. You'll pass close by Sugar Moon on your way to Balmoral Grist Mill. We also had good meals at the Balmoral Motel's Dining Room and at the Villager Restaurant on the main street.
Sunrise Trail travels through land settled nearly two hundred and thirty years ago by hearty Scots folk. The area still very much reflects its Scottish heritage, a history that is never more apparent than in Pictou, the home of the ship The Hector. The town of 1,500 people knows how to pull history together in an attractive package. Its powers-that-be, realizing that heritage and proper theming attract visitors, wrap history in tartan and nostalgia. Way to go Pictou! There are so many visuals in the community that connect Scotland to Nova Scotia, you'll wonder if you've slipped across the great pond by mistake. Early architecture is Scottish pure. Some of the oldest buildings are almost duplicates of those one might see in a village over home.
Caladh Avenue, known as Avenue of the Clans, has for street decorations, large panels on lampposts that depict clan tartans, buckles and mottos. Stores sell Scottish related items. Street cutouts are in a humorous Scottish style. Businesses carry Scottish names. Everywhere one looks, tartan banners are proudly displayed.
Caladh, Front and Water Streets & Pictou Harbour are in the hub of vibrant activity. Hector Heritage Quay is located in this area along with a number of good restaurants and accommodations.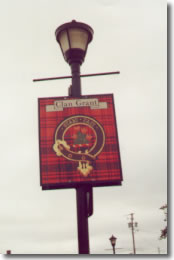 Hector Heritage Quay tells the story of the immigration in 1773 of approximately 200 Scots who sailed to Nova Scotia and a new life. The Hector, the first ship of Scottish people that came directly from the homeland, took three months to complete the journey. Today, a replica of the ship The Hector, is being re-created at the Quay. Displays in the new Interpretive Centre tell the 18th century immigrant story. The Complex includes the excellent Interpretive Centre, the ship The Hector, an original blacksmith shop and a quality gift shop.
Northumberland Fisheries Museum, housed in a rebuilt train station, is one of the most comprehensive tributes to the men of the Straits and sea. Give yourself lots of time to watch videos on various aspects of the fishing industry and to look through their extensive archives. Displays are well done and staff very knowledgeable too. You might think that a facility devoted to the fishing industry would be boring. Not so! This is a fascinating museum and well worth a look-see.
You're not going to get dinged for parking in Pictou. Parking meters have been turned into history bites - poles with crests giving bits of local history. Fire hydrants are painted in various themes too.
Our accommodation was at the c1810 Consulate Inn on Water Street, close to all attractions including the Grohmann Knives outlet. Built in the Scottish town house style, it's thick stone walls rise three and one half floors above street level. Aberdonian dormers crown the third floor. The building's front door is right at the street level in true town house manor. During the late 1800's the building was used as the U.S. consulate. In 1991 it was sympathetically restored and made into an inn with lovely rooms and fine dining in the Vince Restaurant. The present owners of the Consulate Inn love cats. If you like 'em too request a four-footed purring pussy before going to bed. We cuddled in with friendly Griffin.
Bare in mind that Nova Scotia is one of the friendliest and most laid back Provinces in Canada. Tourism is unsophisticated and unpretentious, especially in smaller communities. Landscapes are not "gussied up" for visitors. Side roads and byways present true down-home Nova Scotia scenery. Folks are friendly and helpful. To thoroughly enjoy the Sunrise Trail, slow down, relax and take your time to explore its many charms. Plan your vacation to take in summer festivals and special events. Retail shops, by government regulation, are not open on Sunday, so do any purchasing during the week or on Saturday. Many attractions close, or operate on reduced hours during non-busy seasons. Don't forget a camera and lots of film. Plenty of great picture taking opportunities will present themselves. Do have a muckle holiday!
IF YOU GO:
Wild Blueberry & Maple Centre




Jost Vineyards




Train Station Inn




Maple Sugar Farm




Pictou Recreation & Tourism




Consulate Inn