South & East of Nashville
Middle Tennessee


By Pat Mestern
Middle Tennessee, with Nashville as its largest city, offers some "mighty fine" backroads "driving and looking". Some of the most interesting attractions and events are found south and east of the music city. Highway #231, that runs from the Alabama state line to the Kentucky state line, is the best way to access the area. Many people start in the south and work their way north.
First stop on your way north is Fayetteville. It's always a pleasure to visit a community like Fayetteville, that takes pride in its roots and preserves its built heritage. Approximately 9,000 people call Fayetteville home. Local pioneer-settlement history dates back to 1810. C ity Square, with its imposing courthouse in the Williamsburg style, is the hub for a thriving down-town that boasts good restaurants, antique & specialty shops and an old-fashioned movie theatre.
One of the largest southern discount fabric and upholstery stores is located just off the Square, as is Cahoots Restaurant. If you've never eaten in a former jail, try Cahoots. The County Museum is close-by. A number of streets, including one called Mulberry, are lined with excellent examples of residential architecture. Ask for a self-guided tour map at the Visitor Center, located in Stone Bridge Memorial Park on Thornton-Taylor Parkway.
One of the most amazing attractions in the state is located just outside of Fayetteville.
Ronny Wallace's Riverbend Farm is known world-wide for Pure Bred Black Angus cattle & cattle sales that are held on the estate. Buying and selling cattle is not the reason for your visit. Wallace's new sales barn is accessed by a lane that is bordered by black wood fencing, stunning statuary and other decorative features. The lane-way is awesome in itself but there's more to see.
Ronny has amassed a collection of some of the rarest one-of-a-kind art pieces in the world. His amazing, eye-popping collection includes furniture, porcelains, bronzes, tapestry, marble. Some pieces are displayed in his fabulous marble-floored cattle sales barn. You'd have to visit major museums and art galleries in Europe to see even a portion of what he has on display. There's a hitch. Ronny welcomes groups by prior arrangement. Others might be able to have a tour when he personally has the time to take you around. Try calling Riverbend Farm, #1-931-433-3289. Honestly, you've got to see this sales barn and priceless collection to believe it.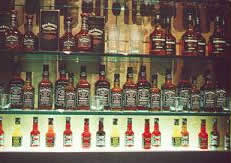 Circling east from Fayetteville on Highway #50, it's not far to the bubbly village of Lynchburg, home of the famous Jack Daniels Old Time Distillery, makers of Tennessee sour mash whiskey. On any given day, there are far more visitors than residents in the community. Stop at the Distillery's Visitor Center first if you're interested in a guided tour what includes, charcoal making area, the cave spring, fermentation rooms, stills, charcoal filtering and bottling area. The Visitor Center is a great place from which to send an e-card to let your folks know you're having fun.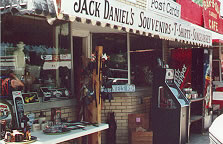 The village of Lynchburg, population approximately 370, is an architectural and historical gem. Court House Square is ringed with shops selling all sorts of in-theme things - whiskey fudge and cake being two of most popular items. Drop into the arts and craft co-op where you can chat with area folk who are working on their specialities. One interesting store sells furniture made from old Jack Daniel's oak barrels.
Hungry? For a real dining experience, try Miss Mary Bobo's Boarding House. Reservations are required at least two weeks in advance. The concept is unique in that twenty-four people are seated per table. Each table has a hostess.
Food is southern and served family-style.
Down the road a bit, near Tullahoma, Shipman's Creek valley is worth a visit to see the pretty old wooden mill that nestles below a waterfall in the green, lush escarpment. It is currently operating as the Ledford Mill Bed and Breakfast.
While in the area of Tullahoma, check out their fine Arts Center. With three galleries dedicated to Tennessee artists, and a regional museum gallery that features touring shows, the Center brings art to the area in style.
The former railroad village of Wartrace, isn't far from Tullahoma. By the way, the name is War Trace, not Wart Race as in warts racing. The tiny community has some great railroad architecture and a downtown area that faces the tracks in traditional c1850's style. Wartrace's Main Street is home to the famous Gallagher Guitars. The Gallagher family has been making quality, instruments for nearly forty years.
Chockley Tavern is just across the tracks from the downtown. Blossom Merryman, in the guise of Mary, the good lady of the Tavern, just might greet you at her door. Call ahead to make reservations for Merryman's special "Lunch and Learn" demonstrations.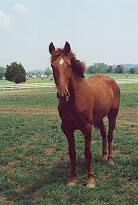 Wartrace is also known as the "Cradle of the Walking Horse. The Tennessee Walking Horse has a unique gait and gentle disposition. The horse's walking gait is known as the "Flat-Footed" walk. It's running walk is known as the "Big Lick". This unusual breed is best seen at Bridlewood Farm Stallion Center, where visitors are always welcome. Bridlewood Farm is near Shelbyville. Horse shows are held April through September in various communities that have an association with this horse.
Next stop, the tiny community of Bell Buckle. It seems that all roads lead to this jewel of a village at the junctions of #82 and #269. At one time, the tiny strip that comprises main street was slated for demolition. Saner heads prevailed. As Anne White-Scraggs, one of the movers and shakers of the revitalized village said - "The First time I saw Bell Buckle I wanted to take it by the ends and shake it". The village, as another long time resident observed, was at one time suffering from benign neglect. Anne bought the old bank building, worked at her creative sculptures in the back room and sold her creations at the front. The rest is history.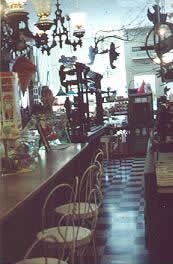 One store-keeper said, in confidence, that it helps to be crazy to live in Bell Buckle. Creative is a better word to use. Quilt patterns are painted on the street. Sidewalks, in front of certain stores, have colourful murals depicting what is sold in that establishment. Crafts are one-of-a-kind and in-house manufactured. Have a peek in Billy Phillips General Store. You just might see Phillip's mother sitting on a bench doing red-work embroidery that is subsequently sold in Billy's stores. Don't forget to pat the community dog, or dogs,
that happen to be cruising the street too.
Bell Buckle has two stop signs, maybe thirteen shops, perhaps three restaurants and lots of characters who number in the village's approximately four hundred and fifty residents The population swells by thousands on special weekends. Looniest yearly event is the RC Cola Moonpie Festival where contests such as Wonder Woman of Bell Buckle, Super Man of Bell Buckle, Moon Pie Song Contest. Moon Pie Madness, a Synchronized Wading Event and Pickin' & Grinnin' keep everyone hopping happy too.
A short jog west to Highway #231 then north brings you to Murfreesboro. This sophisticated community of 23,000 lies at the geographic heart of the state. A cairn marks the spot. A magnificent Antebellum Court House dominates the Square, surrounded by significant c1800's architecture. Old-fashioned Holden Hardware Store is worth a half-hour of your time.
Some of the attractions include the Grave of the Human Fly, c1815 Oakland Plantation, the home of Sam Davies, Confederate Civil War hero, Stones River National Battlefield, Cannonsburg Village that is a recreatedrural southern community and consists of a collection of c1800's buildings. You can walk, jog, cycle and roller blade along the 4.5 mile Green Way river trail that follows the Stones River. Take a self-guided walking tour through well kept residential Victorian neighborhoods. Time your visit to enjoy Scottish, street and jazz festivals.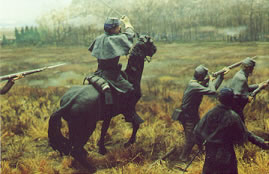 Although larger accommodation chains are well represented throughout Tennessee, why not try bed & breakfast establishments. It's a great way to meet people while enjoying the ambience of a heritage building Your hosts have a wealth of area information at their fingertips. Breakfasts are superb. Beautifully decorated Byron-Roberts Inn Bed & Breakfast is centrally located on Main Street, Murfreesboro, right down the street from the City Café, a great place to eat. Try their fruit plate for lunch. The Byron-Roberts Inn is less than thirty-five miles from Nashville so would make a great home-base from which to day-trip through middle Tennessee.
You can continue your journey toward Lebanon and Watertown, north and east of Nashville on #231 but you shouldn't leave the southern part of middle Tennessee without tasting Bigham's Country Ham. Bigham's home-base is at Cornersville but the ham is served in restaurants and is available in grocery stores. There's no better comfort food than country ham and biscuits. Good eatin' folks and good traveling too!
IF YOU GO:
For information on Murfreesboro, write

Heart of Tennessee
Rutherford County Chamber of Commerce
501 Memorial Blvd
P.O. Box 864
Murfreesboro, TN 37133-0864
#1-800-716-7560
www.rutherfordchamber.org




Byrn-Roberts Inn Bed & Breakfast




Fayetteville-Lincoln County Chamber of Commerce




Jack Daniels Old Time Distillery




Moore County-Lynchburg Chamber of Commerce




Ledford Mill B & B




Wartrace Chamber of Commerce

P.O. Box 543
Wartrace, TN, 37183
#1-931-589-9999




Historic Chockley Tavern, Blossom Merryman

111 Spring Street
Wartrace, TN #37183
#1-931-389-0545 or
#1-931-455-8966




Bridlewood Farm Stallion Center

Bell Buckle Lane
P.O. Box 909
Shelbyville, TN, 37160
#1-931-389-9388




Bell Buckle Chamber of Commerce

P.O. Box 222
Bell Buckle, TN 37020
#1-931-389-6354




Tennessee Backroads Heritage Tourism Area