The Cumberland Highlands & Plateau
Driving the #127 Corridor & Environs


By Pat Mestern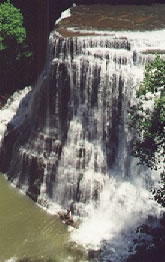 If there's one thing you learn from traveling a lot, it's never to leave home without a trip plan. Without one you might miss a lot of good things, including, perhaps, a peek at a Nobel Prize medal. Careful planning is necessary if you want to see everything the Cumberland Highlands has to offer. Pack good hiking boots for this leg of your Tennessee trip. If traveling from the north, the best way to approach the area is by way of Highway #127 through Kentucky.
The community of Static lies right at the Tennessee border. It's sole purpose in life seems to be to sell gasoline and other sundries. You'll know where the state line runs. All lottery tickets are sold on the Kentucky side.
Turn right, onto Highway #111, at the four corners just below the state line to visit the Cordell Hall Birthplace Museum and State Park near Byrdstown. From humble beginnings, Hull became a prominent figure in the Roosevelt Government. He was awarded the Nobel Prize for Peace in 1945 for his role in establishing the United Nations. The log cabin where Cordell was born on October 2, 1871, has been restored and there's a good display of memorabilia in the on-site Museum. You should call ahead to find out when Hull's Nobel Peace Prize medal will be on display, always under police guard. Interesting to note that his father, Billy, made moonshine in "Ole Bunkum Cave" across the road from the homestead. Plans are underway to make "Ole Bunkum" part of the homestead property.
Sunset Marina & Resort, on Dale Hollow Lake, eight miles south of the Tennessee-Kentucky State Line, is a great place to use as home-base while exploring the Upper Cumberland area. The Resort has all kinds of neat events including an annual June "Sky-Ski-Fly-in". Cabin accommodation is excellent. Their floating restaurant serves up good food and marvelous sunsets. You've got to try their traditional "gravy and biscuits" breakfast. Heck, skip the gravy, just bring on their flaky biscuits and a bucket of jam.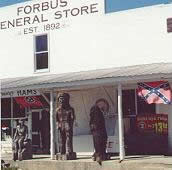 Tennessee is a great place to find old-fashioned country stores. Highway #127 has its share. Heading south, from Static on #127, Forbus General Store sucks you in with its unique facade. Great old country stores have a nostalgic smell about them. That's good, because it means authenticity. Forbus General Store doesn't disappoint. You can even find friendly folk playing the popular local card game ,"PIG", in front of the big wood stove.
Alvin C. York was the most decorated First World War soldier in the U.S.A. His home is near Pall Mall, south of Forbus. It sits in the pretty Valley of the Three Forks, across the highway from the Wolf River and York Grist Mill. A walk-through the family dwelling is given by a son, Park Ranger Andy York. Fifty-five years of history and memorabilia, encompassing 1919 to 1974, make this tour a wonderful homey experience. If the name Sgt. York sounds familiar, it's because a movie was made of his life.
The York Grist Mill is beautifully situated on the Wolf River. At the right time of the year, many different species of butterfly congregate on the sandy banks below the mill dam. Their bright colours, against sand and gravel, make for great picture taking opportunities.
Historic Rugby is east of #127, on Highway #52. Be sure to leave time to visit this bit of Victorian England in the Tennessee Cumberlands. The idea for the village was conceived by an Englishman, Thomas Hughes in 1880. He envisioned a utopian town that would be a co-operative endeavour, and inhabited by a society devoid of British "class restrictions". The National Trust says that Rugby is one of the most authentic, preserved historic villages in America. There are at least twenty original buildings left from Hughes's experiment in rural living. Architectural styles are charming and quite unique to the area.
Victorian buildings open for tours include the Schoolhouse Visitor Center, Christ Church Episcopal, Thomas Hughes Library & home. Be sure to visit Laurel Dale Cemetery and walk to the Gentlemen's Swimming Hole on the Big South Fork River. It's a big hike down to the Meeting of the Waters where White Oak Creek joins with Clear Fork River, but it's worth the effort just to see the unique flora and fauna, not to forget "Witch's Cave. Remember, who hikes down, must come back up again.
Hughes's experiment didn't realize full potential and the village languished until 1966 when a not-for-profit Rugby Restoration Association was formed. Restoration work continues today. Historic Rugby events include the Festival of British & Appalachian Culture held annually in May with music, crafts, arts, food and demonstrations part of the weekend's festivities. Ghostly Gatherings is staged in October. Christmas at Historic Rugby is a favourite with visitors in December.
If you plan to stay in Rugby, Grey Gables Bed & Breakfast Inn run by Bill and Linda Brooks comes highly recommended. Grey Gables is set amidst farm fields and forest, a mile or so out of Rugby. These kind folks also own the old R.M. Brooks General Store just down the road from their establishment.
Don't forget that in driving east on Highway #52, you pass into a different time zone, so lose an hour. You gain that lost hour when retracing your steps over the Plateau to once again pick up Highway #127. Back on #127, and beetling south, watch for Highland Manor Winery signs. What a surprise to find a winery in this part of Tennessee.
It is truly amazing, what will stop a man in his tracks. South of Highland Manor Winery, hubby slammed on the brakes when he spotted the largest automobile grave & junk yard he had ever seen. Fortunately, the yard was on the right hand side of the road so he didn't veer into oncoming traffic. No-one we asked, could remember who owns the yard, but they told us that there had to be more than three thousand, c1920 through1970 vehicles in an area that covers a few hundred acres. What you see from the road is the icing on the cake for anyone into restoring- or just looking at - old cars!
A few yards down the road again, at Clarkrange crossroads, turn right and follow signage to Muddy Pond, an Amish community that boasts a Sorghum Mill and General Store.
The story of Homesteads, which lies four miles south of Crossville on #127, is a story of survival during the dirty thirties. Cumberlands Homesteads was part of President F.D. Roosevelt's c1930's New Deal Project. During the Great Depression homesteaders cleared acreage for subsistence farming. They also raised cottage-style dwellings and public buildings using natural materials including wood and "Crab orchard" sandstone. The most dominant building spots a magnificent stone tower and houses the Historic Homesteads Tower Museum.
Time for a snack? Check out the cheap but delicious made-on-the-spot bologna & cheese sandwiches at Homestead Fuel, just north of the Museum.
Continuing south on #127, watch for signs to Fall Creek Falls State Park. You have to turn right onto #30 to access the park's entrance. It's well worth the drive. The Park boasts a waterfall that is twice as high as Niagara, and a deep canyon whose rim defines the edge of the Cumberland Plateau. Leave lots of time to hike some of the Park's trails. The best spot for enjoying the vista, is from 600 foot high "Buzzard's Roost", where you can look down into the canyon, and also have an excellent view of at least twelve peaks on a clear day. Here too, you can see the full impact of the plateau's rugged, broken ridges. Don't forget your camera.
Sandstone cliffs are spectacular, especially in the area of the plunge-pool at the 256 foot falls that give the state park its name. Cone Creek Falls and Cascade Falls are also well worth the short hike to see them. For a real thrill, cross the swing-footbridge near the Visitor Center. If you have time, enjoy a nature walk with one of the Park Rangers.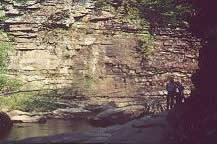 Fall Creek Falls Bed & Breakfast is a great place to stay while enjoying the park's amenities. Located just outside the west gate, the popular bed and breakfast, owned and operated by Doug and Rita Pruett, has been a home-away-from-home for senators and country & western singers The easy-going tone of the B & B is set when you see "Elvis Presley Boulevard" and a great photo memorabilia wall
Cumberland Caverns is located just outside of McMinnville, west of Fall Creek Falls SRP. The Cavern's underground Ballroom seats 500 and comes complete with a 34 ton crystal chandelier that is lit to the sound of classical music. "God of the Mountain", a sound & light show is also presented in the cave but be prepared for an arduous climb to see it. This short but steep climb is not recommended for those with health problems.
Other Cumberland Highlands attractions include Burgess Falls State Natural Area with three gorgeous water falls, the Joe L. Evins Appalachian Center for Crafts near Smithville that features special gallery exhibits and summer workshops, and Falcon Manor in McMinnville with its slick-talking man-of the-manor.
Traveling the back roads of the Upper Cumberland Highlands is great fun. Under the category of "there are odd things done by eccentric folk" - where else can one see a coffin and grand piano sharing the same front porch. I'm not about to tell you where this combination was sighted, but it's just one of those unusual surprises that one expects when shunpiking in Tennessee.
IF YOU GO:
Upper Cumberland Tourism Association




Sunset Marina & Resort




Highland Manor Winery Inc.

2965 S. York Highway
Jamestown, TN 38556
#1-931-879-9519




Cordell Hull Birthplace Museum & State Park

1300 Cordell Hull Memorial Drive
Byrdstown, TN 38549
#1-913-864-3247




Sargent Alvin C. York, Gristmill Birthplace Museum

Highway #127
Pall Mall, TN
#1-931-879-6456




Historic Rugby




Grey Gables Bed 'n Breakfast Inn




Fall Creek Falls State Resort Park




Fall Creek Falls Bed & Breakfast Inn




Joe L. Evins Appalachian Center for Crafts

1560 Craft Center Drive
Smithville, TN 37166
#1-615-597-6801




Cumberland Caverns

437 Cumberland Caverns Road
McMinnville, Tennessee, 37110
#1-931-668-4396




Dale Hollow Lake