Bachelors and Benedicts



By Pat Mestern
March 19, 2004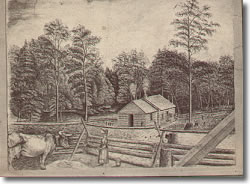 Whatever possessed wealthy, educated young men to leave their ancestral lands in Scotland for Upper Canada? A high percentage, including the Webster brothers, Valentine brothers and Alex D. Fordyce Jr. who came to the area during the 1830's, left behind substantial land holdings and country estates, and possibly pretty maidens too.
The answer is simple. Land in Scotland was a scarce and expensive commodity. Majority acreage was held by a minority of wealthy landowners. There was little encouragement to stay in the British Isles and Ireland for men of ambition and vision. Scottish cities were full of young well educated men employed in a variety ways, none satisfactory for an adventurous spirit. As John MacIntyre wrote of his family's exodus to Edinburgh in 1826 - "We are prisoners in a wealthy enclave of our own making, in a city where our wives are reduced to twittering birds of domesticity; and we are reduced to twittering idiots. We are oneness, sameness and drabness in a city that is oneness, sameness and drabness".
What better place to find adventure and a new life than land-rich Upper Canada. Australia, New Zealand, India and Southern Africa also benefitted from the exodus of the young. Europe's greatest export was her people. In Auld Scotia's case, her educated young men came with an entrepreneurial spirit and a taste for high adventure. Her poor came of necessity.
James and Thomas Webster, Thomas and John Valentine, Gilbert Todd and Alexander Fordyce were young and eager for a taste of life in a new land. They became six of the most well known early area settlers. James Webster, co-founder, arrived in 1833 as a partner to Adam Fergusson. Thomas Valentine came in 1834, purchased land and 1835 returned to homestead. John Valentine and Alex Fordyce arrived in 1835. Gilbert Todd and Thomas Webster entered the picture in 1836. All were unmarried, healthy and imbued with an adventurous spirit. Free of the ties of domesticity, they enjoyed a bachelor's life, that to be appreciated, must be told in their own words.
Thomas Valentine bought 291 acres on the Irvine River north of Fergus. His 1834 description of a workman's cabin, a bachelor pad, is interesting. "...that occupied by the workmen was really a curiosity inside. One end was occupied by an immense fireplace. On one side the sheets and blanket of about half the inmates lay on the floor, turned and twisted in twenty different ways, while the half lay perched on a few boards laid across the joists to which there was no visible means of ascent, for even tables and chairs were wanting, as unnecessary in this hut of the wilderness. Their place was supplied at once in a very ingenious and simple manner by the floor which served at once for Bedstead, Table and Chairs. The ingenuity of the thing consisted in leaving out a board in the floor, and disposing of the feet and legs thro' the hole very conveniently."
By the time Alex Fordyce and John Valentine arrived, Thomas had a log dwelling built for himself on the Irvine River. A number of bachelors spend the winter in this cabin. Fordyce writes of the experience in his journal. He refers to the home as "Irvineside" -"I shall now tell you about our "Domestic Economy". Well, we rise, I suppose at 8 o'clock, light the fire which has been rested all night and then have breakfast. Each of us takes the baking and the washing up of the dishes week about; and I can assure you, I am quite an expert baker now. It is Scons (sic) we bake, but not like the Flour Scons at home. No, no they would not be substantial enough for us. We make them as thick, sometimes thicker than your soft biscuits; and fire them in a Bachelor's Oven. Till that very useful article was got, the frying pan supplied its place. But the frying pans here are not the same as yours. The handles to ours are three feet long, on account of the large wood fires we keep. When I came up here first we just lived on bread and the remainder of some tough Ohio Beef, preciously salt, a barrel of which Mr. Valentine had got when he came to live here; but we have now some fresh beef; and about a week ago we got a pig; so that we live very well. When we have to roast beef or pork, etc, it is done in a Bake Kettle, which is a large Pot (into which the meat is put) with a lid on the top of which live ashes are strewed. The machine is then set before the fire and the operation goes on very fast. We have no butter nor potatoes. The former we are promised a supply of, and we have tolerably good cheese, so when I mention that we have tea and sugar, I think I have told you all pour provision' and we all live very well and no mistake.
I have not yet got my bed up from the village, so I just put my feather bed under Mr. Valentine's and I suppose I have as snug a berth as in the house. Since the cold weather commenced we do not use sheets, but just turn in amongst the blankets"
"The house you might suppose would not be very warm from having no partitions, but we keep on roaring fires, so that we don't feel cold. We have no chimney built, but just a hole cut in the roof, and the place about it boarded up as you see in the farm houses at home where the fire is on the hearth as with us." - "The house is 28 feet by 20 feet with a door and two windows in front and two windows behind; and is situated almost close to the river, which is seen from the windows;' and of which the bank the house is on is quite low. Our well is on the brink of the river, and is most excellent water."
Can you imagine such a small space, housing Fordyce, Thomas and John Valentine, Thomas Allardice, David Henderson and George Hamilton during the winter of 1835? Living in such circumstances was not something these fellows endured in Scotland. All six were from monied circumstances and used to having servants. Many brought furniture with them to Upper Canada which they stored until suitable homes could be built. Valentines were wealthy to the point that in later years, their mother knowing Thomas was a keen sailor, had a yacht shipped to Canada for his use. He kept it in harbour at Owen Sound for a number of years and used it to explore the great lakes.
Fordyce mentions that when Valentine's cabin was built, the bachelors had a "house heating". He is credited with doing an excellent sketch of Valentine's holdings c1836, showing the house, fencing, a cow and a woman, presumably the maid of the new Mrs. Valentine for indeed, some Bachelors do become Benedicts. Thomas Valentine's bachelor days came to an end when he bought a marriage license in July 1836.
By the time Gilbert -Gibbie- Todd arrived with Thomas Webster in 1836, there were several "bach halls". The first belonged to Webster. Todd writes - " Mr. Webster built the log house, now occupied by Mr. Peter McLaren - writer's note, now the site of the Bank of Nova Scotia. It was a crowded house, all bachelors". Thomas Webster's log cabin, which was the former home of Wintermute in Pierpoint's settlement, became a "bach hall" in all its glory.
According to Gibbie, writing in 1866 - "Bachelor's Hall was the order of the day - women were scarce. Notwithstanding this great want, some of the Bach halls could compare favourably with many of the houses kept by the fair Maids of Nichol in the present day. We made our malt and brewed our ale, milked the cows, made cheese and butter, and baked the bread - and occasionally did our washing. Often was the song sung by our friends - "Oh, Bachelor's Hal, what a comical place it is." - "the interior of the house consisted of one room, one end of which was boarded up, and was converted into two beds, which were often filled to excess. A hole had been dug deep enough so as to admit of a barrel which held our sugar, and the floor was laid with basswood slabs, and we had nothing to do when we wanted to go to our cellar, but to raise a slab. Around the walls hung a half dozen deer hams which had been drying for some eighteen months. The front of the house was enclosed by a rough verandah, and at the far end stood, on a box, a barrel of whiskey, the best I think, I ever saw in my life. The visitors were generally of a humorous character - there were the Rennies, Dallachen, Dr. Mutch, J & T Valentine and occasionally Mr. Ferrier. It was no small matter to cook for so many. We did a good deal in the way of making scones, venison soup and rice puddings."
Little is written by women who came to the "wilds of Upper Canada". They were adventurers in their own right as they had to "tame" the wilderness, and their man too. They had their pick of young adventurers. Elizabeth Carson married Thomas Valentine in 1836. Her sister, Ann Carson married John Valentine in 1838. Alexander Fordyce Jr. never married, but was "kept" by his sister, Elizabeth. Gilbert Todd was married at an older age - twice. His first wife died in 1852, age 21. His second wife died in 1861, age 30. Margaret Wilson married James Webster on March 6, 1838, an event which was celebrated on March 23 with a ball in Black's Tavern to which 150 people had been invited. Thomas Webster never married and kept "Bach Hall" until he died in 1857.