James McQueen



By Pat Mestern
February 21, 2002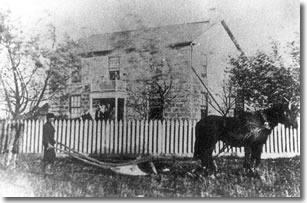 Schooling for children was of the utmost importance to the well-educated Scots that immigrated to the area around Fergus. Most had university educations and wanted the same for their children. It was not unusual then that a school was among the first public buildings raised in the settlement. Finding a good teacher was a different matter. Even the school's location was in keeping with the value that the settlers placed on education. It sat high on the north hill of the river valley, right beside the Presbyerian Church. While the foundation for the school was laid on December 1, 1834, the building was not complete until the end of July 1835. James McQueen did not take up his duties until December 26, 1835.
James McQueen was born in the Parish of Kilmadock, Doune, Perthshire in 1810. He graduated from Glasgow University and while still in Scotland, married Christina Black, daughter of Hugh Black who arrived in Upper Canada in 1834 and became the tavern keeper at Little Falls. McQueen's family came out with the Black family in 1834, but settled first in the USA before moving to Trafalger Township in Halton County where he taught school for one year. It wasn't long before he answered the call put out by his father-in-law to teach in Fergus.
For the first few years McQueen and his family lived in one room at the school. In a letter dated 1865, Thomas Young describes the building in some detail. "The school was a low one storey, log structure. To the left of the door stood a classroom that seated thirty scholars, if not snugly at least cosily. The mid-building which comprised a hall, housed a post office run by McQueen, after I left the post for England on several years repast. It also housed some of Fordyce's books as he did not have room for all in his dwelling which was on the same street. To the right a room, balancing that to the left, became the home of McQueen and his family. This was to be a class when attendance warranted a second room. Living quarters were adequate with a table, chairs, sideboard, stove and poster bed. As McQueen's family increased he needed a home and built, I believe in 1845, "Cherry Lane" which as it expanded became "Cherry Hill" as it was situated on the high south hill of Nichol."
McQueen's beautiful stone home, "Cherry Hill" is located on Belsyde Avenue, and belonged at one time to Max Elkin then his son-in-law David Tobe. "Cherry Hill" was a 130 acre working farm with extensive fruit orchards. Although McQueen had success with several varieties of cherries and peaches, his passion was pears. He also had an aviary and sold honey.
James and Christina had twelve children, Elizabeth, Tina, Jessie, Patricia, Jemima, Kate, Isabella, June, Margaret, Hugh, James and Peter. Christina and Patricia lived into their nineties. They died in Fergus during the early 1930's.
James McQueen taught for twenty-one years, nineteen of those in the old log school. Two were spent in a new two story stone building erected on school property. McQueen also became Township Clerk in 1836 and held the position for more than fifty years. As mentioned he became Postmaster succeeding Thomas Young. McQueen was Postmaster from 1837 until 1882 when he resigned and his daughter Miss Christina took over the position. She held office until 1923. Between father and daughter, the post was held for more than 86 years. He was also Clerk of Guelph Township for 56 years, First Division Court Clerk of the District and First Librarian for the Fordyce library.
In the early 1860's to house the Post Office and provide accommodation for his unmarried daughters, McQueen built 133 St. Andrew Street W. Merv Woods Real Estate now owns this property. The building was one of the few in town that had decorative touches above the windows and door, and garret windows to light the third storey. Check it out!
McQueen died at his beloved "Cherry Hill" estate on February 4, 1899. In September 1923 a memorial tablet was unveiled in Fergus as a tribute to the community's first teacher.
J.B. Perry, one of his most prominent students, gave the address. To quote from Perry's book -
"Mr. McQueen's special bent was work. He held that the greatest blessing bestowed upon fallen man was labour, and that, as he often said, "The more work a man had to do the more he could do'. And surely his life in this regard was full to overflowing. Besides his particular vocation of schoolmaster, he conducted the post office during his lifetime in Fergus. He also kept the records, written accurately in a hand of copperplate, of the Council of Nichol. For many years he was the precentor in Melville Church, long before the "kist o' whistles' was introduced, and he conducted the Sunday School with earnest efficiency for a long period of years. He was a fine farmer. He took a warm interest in all Scottish gatherings, especially in the meetings of the St. Andrew's Society, and wherever he sat, that seat was always 'the head of the table'. He was one of the twenty gallant Fergus men who shouldered arms in 1837 to put down Mackenzie's rebellious disorder".
James McQueen was a strict disciplinarian who believed that the strap was an effective deterrent. He did not spare the rod when dealing with unruly boys, but was less harsh on the girls in his class room. He also believed in education for both sexes and welcomed girls as long as they were willing to learn. His students ranged from age six through twenty. Miss Christina wrote that more than half his scholars went on to higher education. Further she said that because her father believed hard work made better citizens, he encouraged his students to broaden their horizons while putting their shoulders to the wheel. His motto was that a sound mind needed to inhabit a strong body. She mentioned that he worked his students as hard as he worked himself and he believed that he was paid honestly for the job he did.
Thomas Young, a teacher himself, wrote that McQueen was a scholar in English, Arithmetic, Latin and Greek. Honorable Adam Fergusson wrote that James McQueen was the best educated man north of the Niagara River. James Perry penned a poem about his home village and included the following -
To dream aboot the old log school,
The master there, whose rig'rous rule
Make men o' mopes, and gave the fool
Some glints o' sense.
The inscription on the memorial plaque read - In loving memory of JAMES McQUEEN, the first schoolmaster of Fergus, a keen Scottish scholar, who taught from 1836 till 1857, all branches of learning, and who faithfully instilled into the youthful minds of the first boys and girls here the strengthening principles of Honor, Justice and Truth.
The monogram, engraved over the inscription is enclosed within wreaths of Scotch thistle and maple leaves. Perry said of the monogram that it showed the - "symbol of Canada's Scottish blood and of the birth and life of James McQueen, these laurel emblems are there, to hold in their embrace and to ever guard our dear old master's precious name."
To the credit of twentieth century school officials, after the present James McQueen Public School was constructed, the plaque was once again set in memorial fashion at the front entrance and rededicated to the man who so ably educated some of Fergus' early citizens.
I can't say that the McQueen House is safe from harm. It is in danger of being torn down for, in my opinion, line 'em up "rabbit-hutch", "stick and faux-front", twenty-first century development/maul. Rest assure that there are some folks who truly believe in built heritage and that they are doing all they can to save the building.