A Whole Lot of Shakin' Goin'on



By Pat Mestern
April 24, 2004
When was the last time we felt an earthquake in this area? We had a little one in 1999, another one several years before that, at least one during the 1980's, a good one that set pictures rattling in 1963 or 1964, a very strong one in 1923, a smaller one in 1921 - and so the list goes on.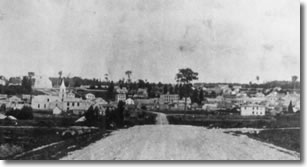 Sitting on solid limestone as most of the town is, Fergus is not known to be in an active earthquake zone. But we have had our fair share of rumbles and shakes. None were as unusual and long as the "Quivering" of September 1870, followed in October by a massive earthquake that was felt throughout eastern Canada. Not being around in 1870 we must rely on the writing of several people who lived through the phenomenon. So let's let them speak.
At the end of October 1870, one gentleman, who lived at the east end of St. George Street in 1870 penned a description of the quivering for a Canadian newspaper. He wrote under the name "Benn Brooke".
"Fergus was not overlooked by the earthquake last week, which was very distinctly felt here, but by no means as strongly as in many other places, judging from the newspaper reports. We regret the earthquake the less since with it disappeared a quivering spirit which has possessed the village for a month or more, terrifying not a few of the inhabitants during the first few days of its visitation. I refer to a quivering motion of the earth or air which began here on the morning of the 20th of September, and continued without cessation up to the middle of the forenoon of Thursday last, when, with a peculiar and distinct shock, it disappeared altogether, as suddenly and mysteriously as it had commenced.
This "quivering" was no fancy so slight as to be a 'doubtful reality', scarcely perceptible but as a strong jarring that kept up a continual din from the shaking of windows, doors, dishes and anything easily moved. A pan of water placed upon a table kept in constant agitation; the strings of a guitar gave forth a low humming sound as when stirred by a slight breeze; a large cross-cut saw hanging from a hook in the ceiling in Powney's hardware store sent forth a musical jingle that could be heard from one end of the store to the other.
The separate motions of these "quiverings" usually occurred about two or three in a second and were mostly of equal violence; but they frequently varied in this respect. Sometimes the motions would be hard and soft alternately, and thus keep on rapidly without variation for an hour or a day at a stretch, and then suddenly change to motions of equal power, or one hard motion followed by from one to half a dozen softer motions. This style of quivering would then rule for a long time till its fancy changed to something else.
Thus when not a breath of air was stirring in the streets my windows and doors have shaken as if a young hurricane prevailed without.
The quivering was first noticed early on the morning of the 20th of September by those who woke early on that morning to proceed on an excursion from this place to Hamilton and Niagara Falls. One family, living on the east side of the river, ran to a neighbor's in great consternation, declaring their house, (into which they had lately removed) was haunted. Whatever may have been the cause of this quivering motion, one thing is certain, it suddenly and entirely disappeared at the time of the earthquake, last week, and has not since returned. I am told that about two years ago, a similar shaking to that above described paid a former visit to this place, and continued about two weeks; and last summer a curious rocking of the earth occurred at Salem, three miles from here; Eby's mill-dam rising five feet in less than that many minutes.
Fergus is a compactly built and pretty village - the buildings being mostly of stone and brick - containing about two thousand inhabitants. It is, by rail, three miles from Elora and sixteen miles from Guelph."
It is interesting to note that the 'quivering' began on September 20, 1870 and ended with a strong earthquake on October 20, 1870. Community residents had to endure this phenomenon for one month.
Some local residents tried to explain the "quivering" by saying that water pounding rhythmically on the rocks below both dams, set up vibrations that were felt along the river canyon. No doubt there were times that people living close to both dam felt or heard something when water struck limestone. The rock, by its nature is full of holes, fissures and caves. It echoes sounds and transmits movement easily. This does not explain why the entire village experienced the 'quivering', which did not stop when Monkland Mills dam reduced water flow over the dam to test their theory.
The next information about the 'quivering' comes from an oral history that was passed through a West Luther family. Grandmother Landoni lived near this gentleman during his residence, in later years, in West Garafraxa. The fellow in this case was very familiar with Luther Marsh, having lived by it as a young man. He knew those areas that were bottomless; those that were deceiving piles of floating growth that would swallow man without a trace. He knew the best places to fish; where to find bear; deer and the occasional moose that strayed south.
On the morning of September 20, while on his usual meandering through the swamp, he noticed that the waters in open areas were agitated, and bubbling as though a fire had been lit underneath them. During the ensuring month, he noticed that swamp water levels rose and fell with no precise timing. Some days the water was surged down the one major outlet into the Grand River, some it barely trickled out. Water levels sometimes changed in a matter of minutes. Water temperature never changed. He attributed the bubbling to disturbances on the bottom.
Areas of the swamp where he could navigate easily became unpredictable. He could not be sure what was stable and what was not. He nearly became a victim, stepping onto what he knew was a solid island to watch the odd agitation, only to find everything underneath that supported the flora had disappeared. The island was tenuously held together by bare roots. The entire "map" of his swamp was changing- and quickly. October 20th, everything returned to normal. He didn't feel the quake. He was aware of the 'quivering' in Fergus but didn't experience any in Luther.
We now have to turn our attention to an 18th century map, which has an odd inscription penned in over Luther Swamp. "Volcano", it says. And remember that the good Reverend Patrick Bell was convinced that the waters of the Grand/Ouse River rose in the head of a dormant volcano in Luther. Is there some partial truth here? Is Luther Marsh by its vegetative composition, a pipeline to more susceptible to under-earth activity than its neighbours down river who are situated on limestone?
It is interesting to note that in the verbal history of the First Nations there is a story about the great river "Tona--aouta" being born in a hole opened by an angry earth.